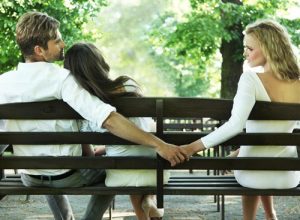 Most of you may know about this
When the other woman calls
She gives you the impression she's the best
Flawless makeup, best body and all
Your mobile rings with your favourite song
On the other end you are surprise
It's an explanation so long
"That's my man, stay away from him!
You better watch your back!"
In disbelief you listen well
Putting your emotions intact.
But after the initial shock of abuse
Being hurled your way,
You cut her off with a commanding tone,
So she will listen to what you have to say.
"Do you know he has a child; a home a dental plan
And my name are on every form?
If he dies right now, God forbid
I would reap the benefits, 'Tis the norm"
Do you know the days he ius sick
Unable to work or rise?
No? Sorry my dear
I'm not easily surprised.
Back and forth this 'tete-a-tete'
Went on for a couple minutes more,
Then reality stepped in that it's not her fault
Someone I trusted ducked out the door.
Someone I opened my doors to
Gave access to my heart
Revoked the trusted vow made
Broken bonds, now are apart.
So I rushed her off the phone
With a "Holla at your boy girl"
Then planned my vengeance on the one
Who expletives I wanted to hurl.
He walked into our sanctuary
Smiling to me with ease,
Unknown to him my anger
I would be venting to feel appeased.
My plan was a very simple one
Wait until he settles
But the boil in my tummy
I really didn't stand the mettle.
So I cursed, I screamed, I yelled and cried
To this man I thought I knew
Betrayal, mistrust and hurt for what was done
Abusive words I did spew.
I asked simply about the life we chose
Thinking we did together
He could not give me a clear reason
He just could not answer.
So I slapped and kicked, threw dishes at him
Not caring about his pain
My thoughts were to kill, to show him his death
To slaughter and to slain
This was wrong, 'you duped me' I said
This you were doing all this time
Making me think life was fun
That everything was grand
But another has tasted what once was mine,
The sweetness I used to savour,
Exploring your body, your mind your soul
Someone else knows your flavor.
All I am asking is an explanation
Just give me a simple reason
You crept out the back, didn't think about us
And done this horrid treason.
No matter what has been done, its done
My trust won't ever be bought
For you lied and deceived not just her, but me
So deal with your distraught.
I gave all I could, I invested my time
You cant say I ever held back.
But today you learn the price of infidelity
This life is now off the track.